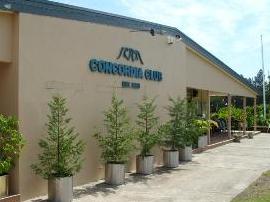 The Concordia Club was established in 1883 and, after many years in Stanmore, moved to Tempe in 2005. It is now conveniently located right across from Tempe railway station at Mackay Park on the banks of the Cooks River.
Extensively renovated, it features family-friendly facilities in beautiful surroundings.
Check out www.cityrail.info for CityRail timetables if coming by train.
Frühschoppen - Sunday 21 May

Join us at the Club for the traditional "early morning pint" - the bar opens at 11am with dancing from 1pm featuring Bavarian Boys.
Our Chocolate Shop will be selling German chocolates, sweets, home-made cakes as well as other favourite smallgoods including Knödel and Sauerkraut.

Concordia Club 134th Annual Ball - Saturday 27 May

Bookings are essential. The Club will be closed to the public from 3pm.

Stammtisch - Freitag 2 Juni

Der Club würde sich freuen Sie zum Mittagessen begrüssen zu dürfen - ab 12 Uhr.

Frühschoppen - every 1st and 3rd Sunday

Good music and good food!
Club Trading Hours:
FRIDAY & SATURDAY
Bar: 12.00 noon till late
Restaurant: 12pm - 3pm, 5.30pm - 8.30pm

SUNDAY
Bar: 11am till late
Restaurant: 12pm - 3pm, 5.30pm - 8pm
1st and 3rd Sunday, 12pm - 2.30pm lunch